Online French Courses
Enrol Online and Start Today!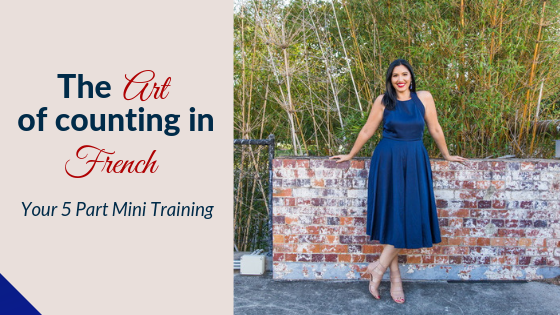 Free Online French Course
The Art of Counting in French with Ease and Impeccable Accent
Free French Verbs Challenge
Sign up for a FREE 31 Day French Verb Challenge
Each day you'll be given a quick challenge via email which should take less than 5 minutes to complete to learn a French verb and help with pronunciation.
Free Online French Lesson
Sign up for a FREE French Lesson Taster
Learn French basics, pronunciation and verbs so that you can confidently have a conversation in French
Whether you're new to the French language, or rusty learner, Getting Started In French will teach you practical everyday French without making you feel confused or frustrated.
I promise, it doesn't need to take months and months of study. in fact, you'll be able to have some simple conversations from the very first lesson. 
This course also includes a 1:1 lesson with a French tutor
Course Cost: AUD$297 
French Pronunciation Online Course
Wave Au Revoir to Beginner Land and take your French conversation skills and pronunciation to the next level.
This 12 week program includes online training modules focusing on French Vocabulary, Grammar, Sentence Making, Smart Learning Hacks, Using French Language, Fluency.
This program also includes Facebook Group, live practice and Q&A sessions with French Speak Tutors, resource library access.
Cost: AUD$747
Ask A Question About Our Online French Courses